Key Value Enhancements
Build clear roadmap to support value creation strategy
Identify add-on opportunities
Construct and oversee due diligence process
Negotiate and execute transaction
Drive post-acquisition integration
Hilsinger's Transformation (Realized 2019)
Hilsinger (Hilco) completed and integrated nine acquisitions during Blue Point's ownership. The acquisition success was the result of a rigorous add-on strategy leveraging Hilco, Blue Point and third-party buy-side search resources to map and prioritize the fragmented universe of potential targets in Hilco's industry, with over 400 targets identified and tracked during our hold period. The strategy focused on identifying and acquiring companies that supported Hilco in achieving five strategic goals:
Increase market share
Expand geographic reach
Provide end market diversification
Add complementary products and brands
Enhance operational capabilities
Hilco's acquisitions proved successful in building the platform along these dimensions as they increased scale in Europe with three regional acquisitions, developed a leading position in ophthalmic supplies and added several complementary product lines and brands to the portfolio. Additionally, the acquisition of a Hong Kong-based sourcing business further bolstered Hilco's existing Asia sourcing expertise, established a revenue base in Asia and enabled Hilco to leverage a larger global footprint of production, product management and distribution assets to achieve unparalleled geographic reach. Together, these efforts significantly strengthened the platform and filled gaps identified by Blue Point at acquisition.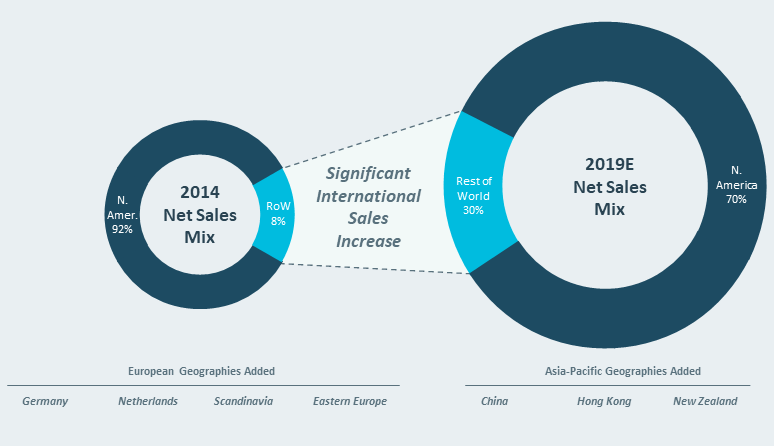 Hilco's successful acquisition strategy created a clear, international leader in the optical products distribution sector with the #1 market share in North America and Europe and a total scale nearly 5x larger than the next closest competitor. In this fragmented market, Hilco is now the only supplier with the product breadth, value-added capabilities, digital tools and geographic reach to serve and grow with both small independent customers and global customers of scale.