Bridging the Data & Digital Gap
Middle-market businesses are often ripe for improvement through investment in Data & Digital (D&D) capabilities. However, these investments can be complex and costly. While company founders and management teams understand the opportunities that D&D modernization provides, the lack of resources — financial, operational or both — can prevent them from undertaking strategic projects.
A private equity partner with strong D&D capabilities can help build and grow technology-driven business environments.
Unlocking Value for Middle-Market Businesses Through Data & Digital Strategies
Manage and Modernize a Company
Our robust D&D capabilities are built to support both digitally native middle-market companies and those still in the early stages of incorporating technology to manage and modernize their businesses. Depending on a company's current level of digital sophistication, our team will partner with management to tailor a strategy for improvement. Opportunities to modernize are applicable across many dimensions — varying business models, channel dynamics, functional areas and product types. No matter the focus, we are driven by one goal — adding value to our portfolio companies.
"In just the first two years of our partnership, Blue Point's Data & Digital capabilities have helped transform and improve nearly all aspects of how we operate."
– Robert Williams, President, Kendall Vegetation Services
Tailored Approach to Data & Digital Landscape
Our strategic D&D approach is tailored for each company's situation through qualitative and quantitative assessment. We want to hear what founders and operators believe are their greatest strengths and weaknesses. Starting at a fairly broad aperture, we then we hone in on areas where we can add the most value.
Blue Point's D&D team helps our portfolio companies by improving talent, strategy, cost, execution and best practices across five key operating dimensions: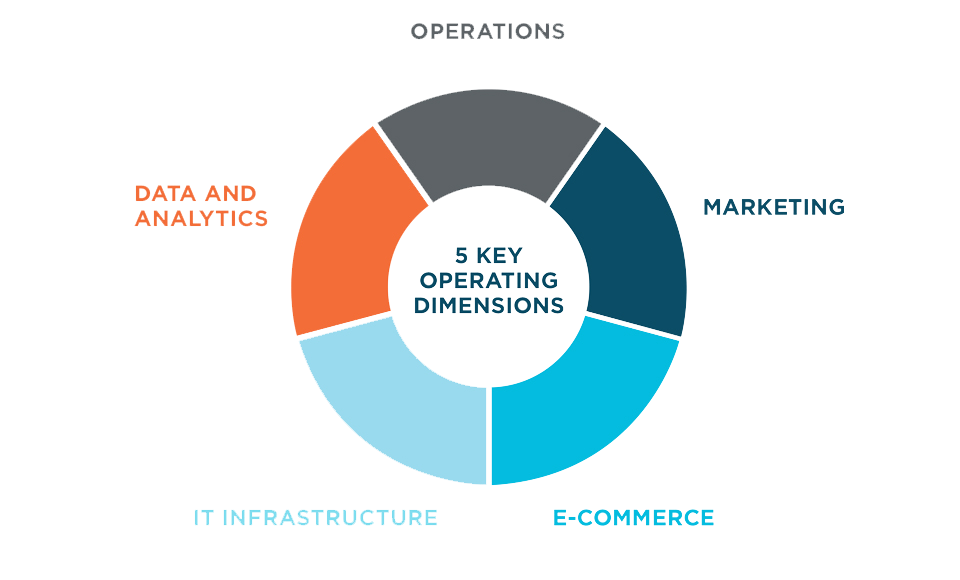 The breadth and complexity of D&D hardware, software, and professional services solutions in the market can be overwhelming for management teams to navigate without support. Our team works with company leaders across 10 key areas of the D&D landscape: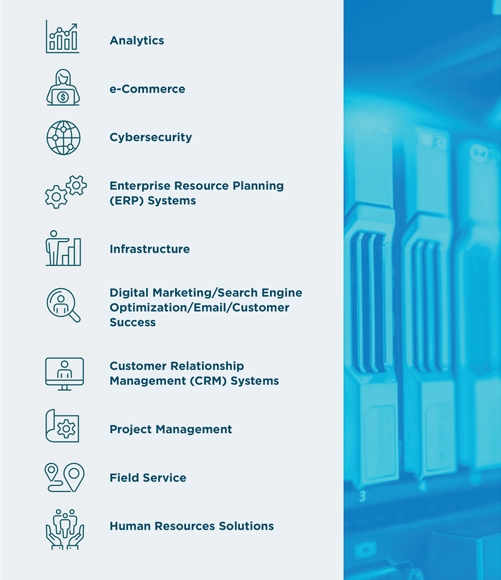 Initiatives Across Our Portfolio
Our team brings deep experience and expertise to each new undertaking. We're proud to have implemented nearly 200 Data & Digital initiatives across our portfolio companies.
Featured D&D initiatives and company testimonials:
Hilco Vision
Transformative solutions for Hilco Vision enabled better measurement, management, optimization and customer lifetime value for continued business growth.
Premier Needle Arts

A digital transformation via an add-on acquisition unlocked new avenues for revenue growth and engagement for a global community of crafters.
Russell Hendrix
Developing industry-leading capabilities in pricing, inventory management and e-commerce for Russell Hendrix.
Generating True, Lasting Value
Strategic D&D initiatives will stay with the business long after Blue Point's investment is completed, generating lasting value for the company, its constituents and its next shareholders. We're proud to partner with our portfolio companies to create this legacy.
Is your company a candidate to begin or continue investment in D&D capability to create free cash flow and enterprise value?