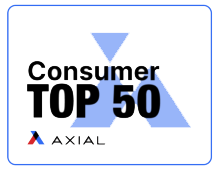 CLEVELAND (December 1, 2020) – Blue Point is honored to have been recognized as one of the top 50 consumer buy-side and sell-side firms, featured in Axial's Consumer Top 50. This list profiles 50 private equity firms and M&A advisors who are best positioned to provide value to business owners, particularly in light of the sweeping changes brought on by the pandemic.
This recognition is especially gratifying to Blue Point in light of the toolkit we have built over the years. According to Axial, "Having a digital presence, offering sustainable, cost-effective products, and optimizing supply chains have become imperative focus areas for all businesses operating in the consumer space, whether they were ready for it or not. As we've learned over the last 9 months, however, those that improvise and adapt are in a prime position to overcome." We couldn't agree more.
Given the importance of those value levers to our model, Blue Point's toolkit includes leading in-house supply chain resources as well as data and digital experts. Improving the flexibility and nimbleness of our portfolio companies is critical and the Firm emphasizes these significant enhancement strategies, such as data & digital capabilities and supply chain optimization and is honored to be recognized for its efforts and proud to partner with its portfolio companies.
Axial independently analyzed the investment criteria of over 750 private equity investors and corporate acquirers on Axial and over 1,000 consumer related deals that have come to market in the last 12 months – ultimately identifying the top 50 based on deal closures, reputation and other data points.
Blue Point Capital Partners is a private equity firm managing over $1.5 billion in committed capital. With offices in Cleveland, Charlotte, Seattle and Shanghai, Blue Point's geographical footprint allows it to establish relationships with local and regional entrepreneurs and advisors, while providing the perspectives and resources of a global organization. The Blue Point partner group has a 21-year track record of partnering with lower middle-market businesses to build processes and capabilities to achieve dramatic growth. Blue Point focuses on opportunities where it can leverage its collective experience, extensive network of operating resources and unique toolkit, which includes Asian capabilities, data & digital strategies and focused add-on acquisition efforts. Blue Point typically invests in businesses that generate between $25 million and $300 million in revenue.
For more information, contact:

BLUE POINT CAPITAL PARTNERS
Partner
127 Public Square, Suite 5100
Cleveland, OH 44114
(216) 535-4706